APetsPlanet
LOW STOCK
Regular price
$109.99 USD
Regular price
$149.99 USD
Sale price
$109.99 USD
Unit price
per
$40 OFF!
Sold out
🐾 Introducing the Backseat Extender from APetsPlanet, a caring family-owned brand! - where luxury meets practicality for your four-legged travel companion! 🐾 Crafted with care and packed with features, our backseat extender is more than just a ride; it's a pup's personal oasis!

🐾 Imagine your furry friend basking in comfort, gazing out from the mesh window, taking in the world passing by. The mesh window also zips up and down! Zip it down to share a pup cup, and zip it up to keep their paws from jumping on you while driving! With not one, but TWO included dog seat belts, safety is as paramount as style!
🐾 But wait, there's more! Our Door covers keep your car spotless, no matter how much fun your pup is having. Sturdy wood panels stretch over the footwell, creating a roomy haven for your furry co-pilot.
🐾 And the comforts continue! Extra cushioning ensures every ride is a plush, stress-free experience. No more fidgeting or squirming, just pure puppy bliss from start to finish.
🐾 But that's not all! We've added two storage pockets with Velcro lids, the perfect spot to stash your dog's goodies and keep those paws from prying. Snacks, toys, you name it - they're all safe and secure.
🐾 Rest easy knowing we've got you covered with our 100% waterproof and accident-proof material in the Backseat Extender. Just one wipe and the mess is cleaned! Your pup's comfort and your car's cleanliness are our top priorities! 🐾For added convenience, the panels are removable, making it a breeze to machine wash the cover. Keeping everything fresh and clean has never been easier! 🧼🚿🐾
🐾 And the cherry on top? We proudly present our lifetime warranty! That's right, this Backseat Extender is not just a purchase, it's an investment in a lifetime of tail-wagging adventures. Say goodbye to the hassle of replacements and hello to worry-free journeys. With our lifetime warranty, you'll never have to buy another one again! Your pup's comfort and joy are guaranteed for the long haul.
🐾 So why wait? Treat your travel companion to the ultimate experience in comfort, safety, and style. Grab the Backseat Extender today and set off on unforgettable adventures with your pup enjoying pure luxury and comfort! 🚗🐾
View full details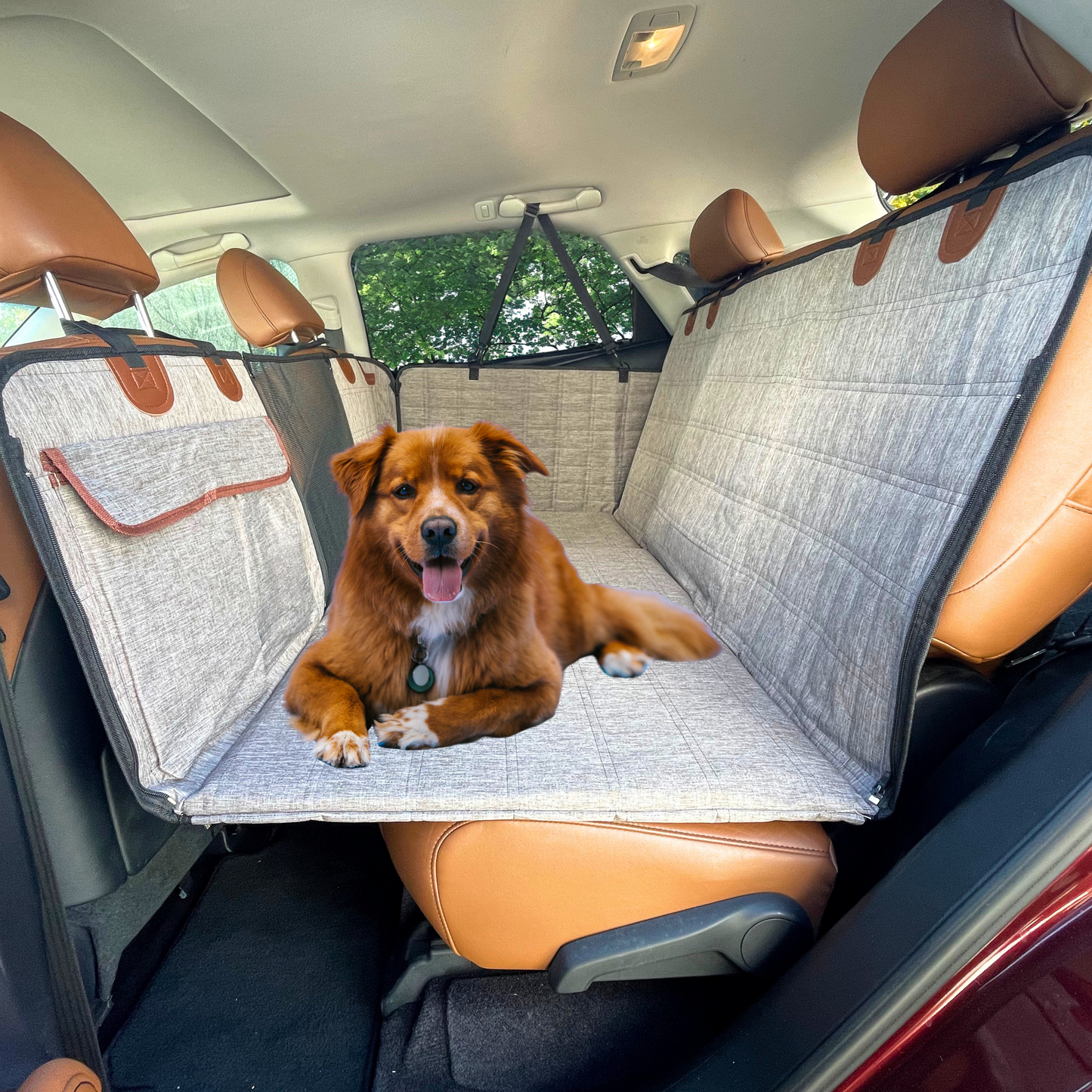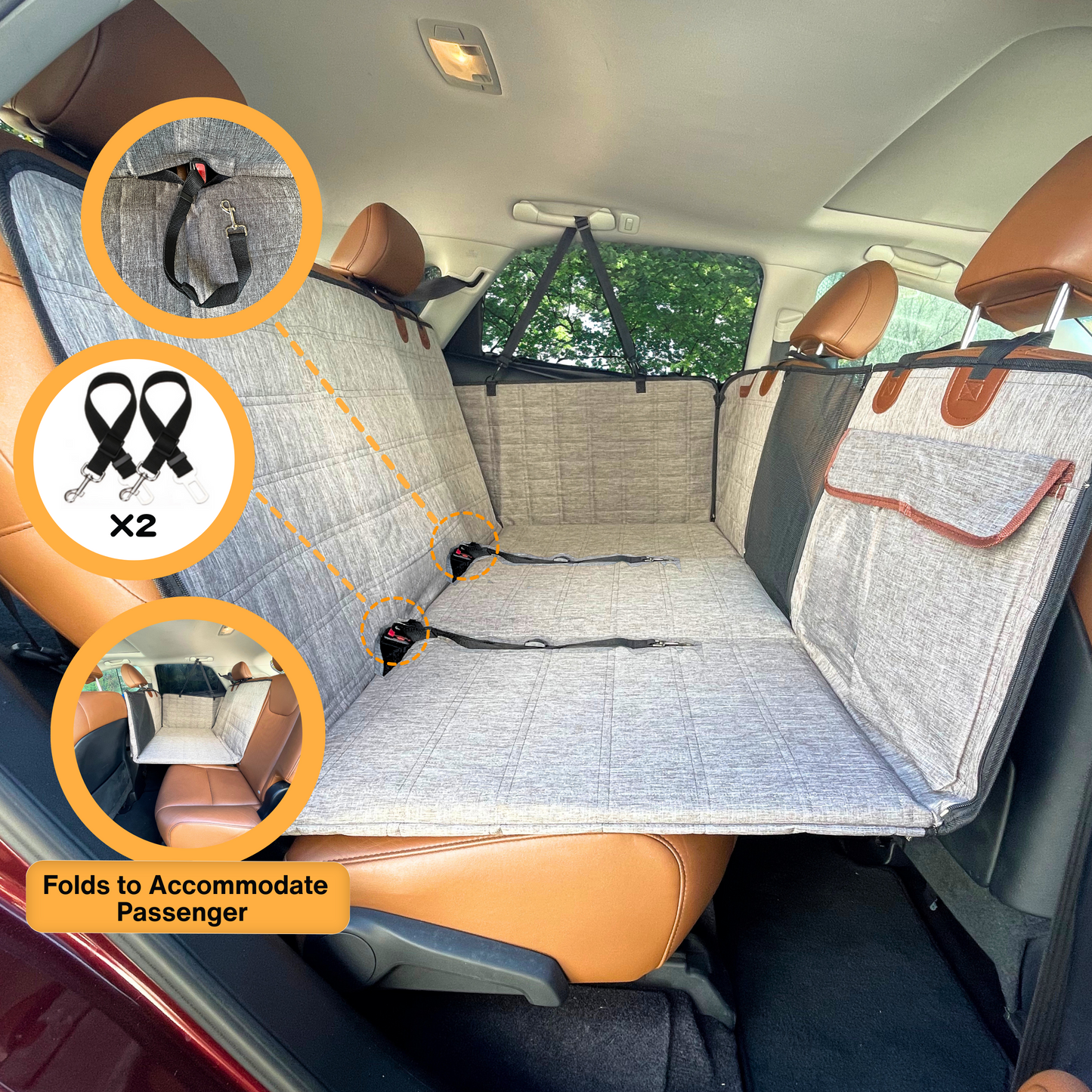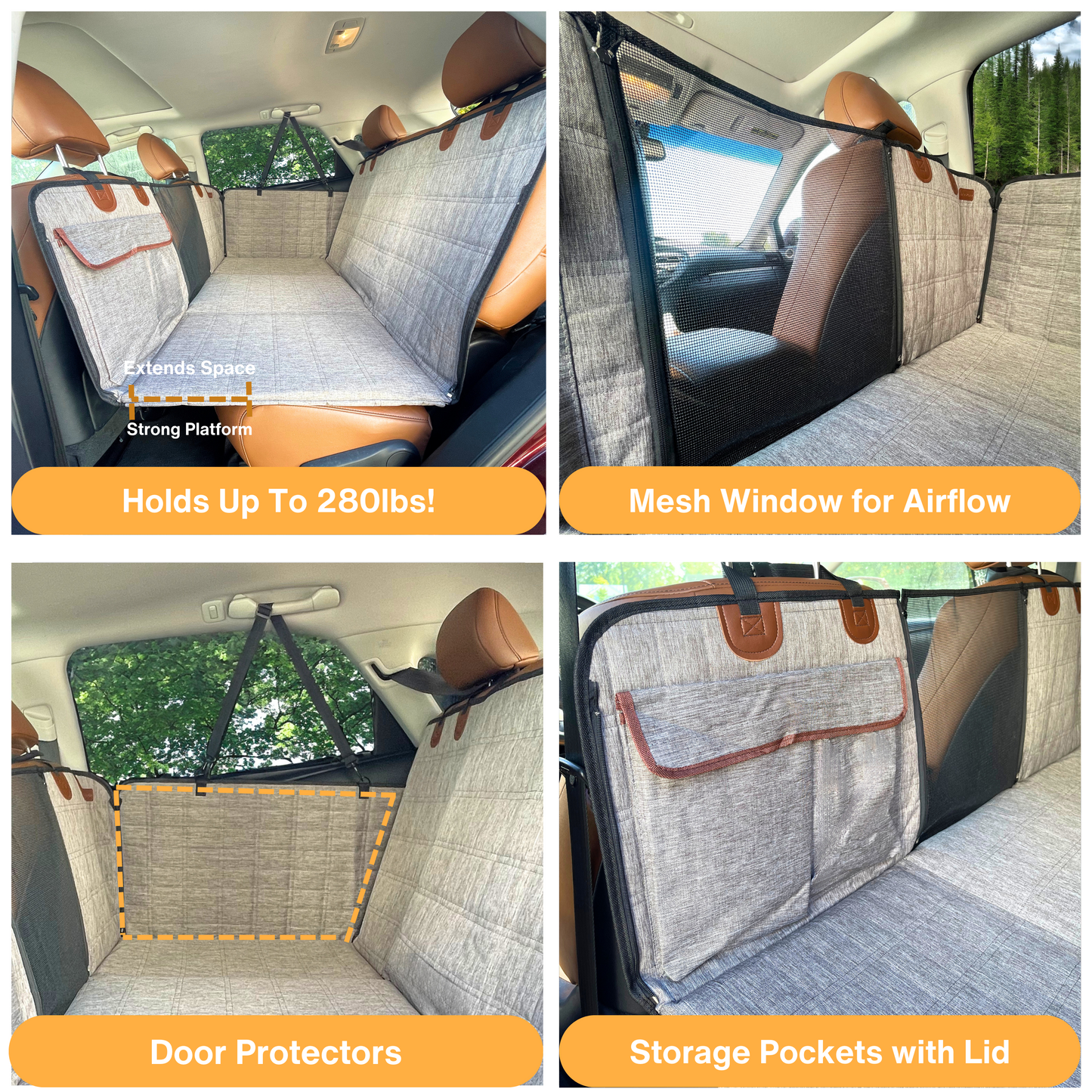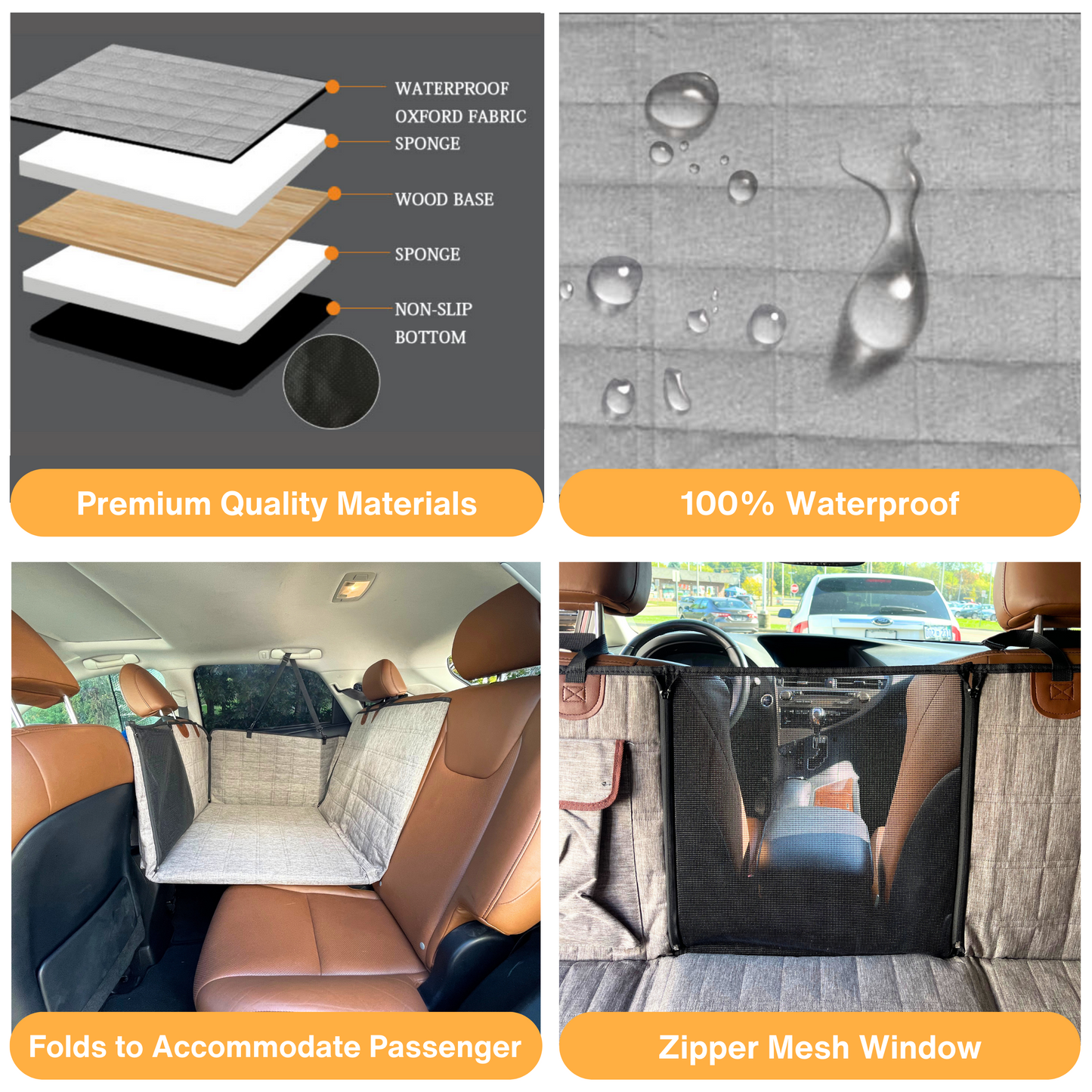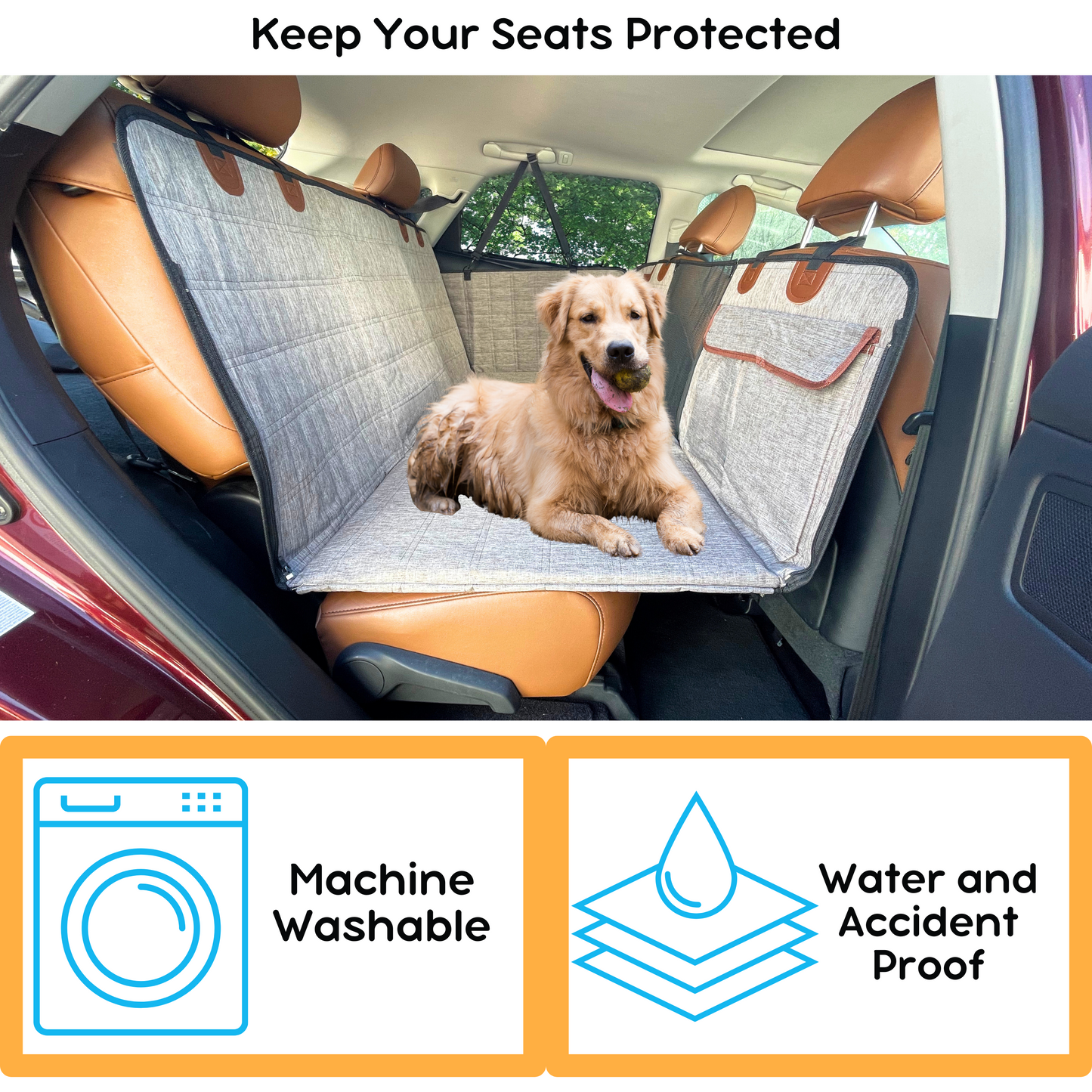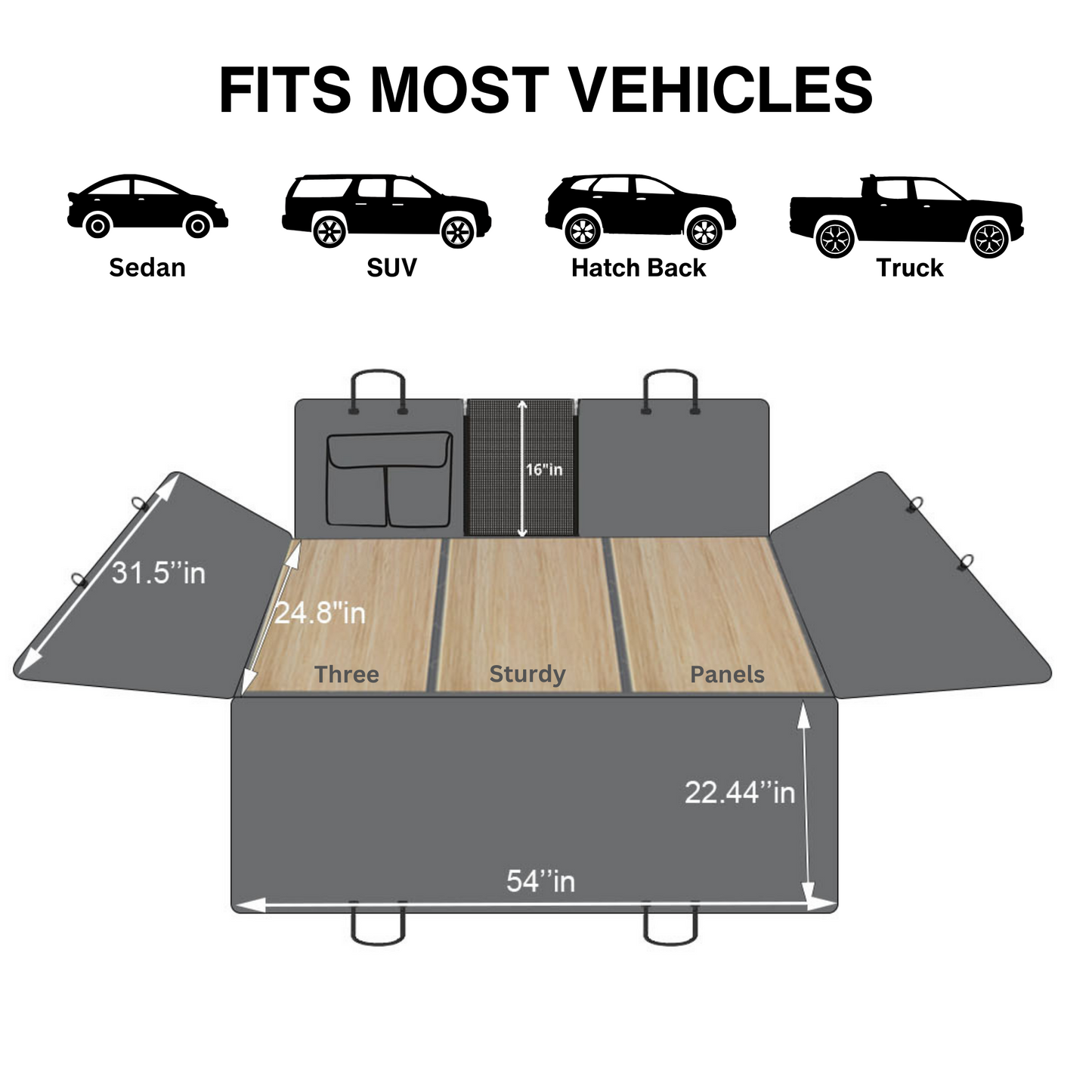 Question's
It it washable?

Yes! The panels are removable, so you can machine wash the cover!
What's the weight capacity?

Our Backseat Extenders hold 280lbs!
Will it work with captain seats?

Yes! It will work with captain seats and bridge the gab between the two seats.
Is there a warranty?

Yes! We offer a lifetime warranty. So you never have to worry about buying another one again!
Is it waterproof?

Yes! We use 100% waterproof materials to ensure all accidents, and messes don't leak onto your seats, just an easy wipe up and you're ready to go. Say hello to worry free adventures!
Can I buckle my dog in?

Yes! This backseat extender has seat belt slots, and comes with TWO dog seat belts.
Does it work with bucket seats?

Yes! Our Backseat Extenders work great for vehicles with bucket seats.
This is the Cadillac of car seat covers!
Exactly what we hoped for!
I have a Golden Retriever/Great Pyrenees mix that weighs 102 pounds and she loves to be in the center console and copilot whenever she's in the car with me! I was looking for a space for her to be comfortable, secure, and also be able to be comfortable through the center without having to lay on the barrier like in my past pruducts. The zipper down center was key for me purchasing from A Pets Planet!
Aspen and I are over the moon, 5-Star happy!
Thank you!
Sunnie & Aspen
My dogs love it! What a relief!
My Airedale loves her new bench to lay on during our long drives to the cabin! She used to pant the whole way there and now she sleeps most the way. It's such a relief to everyone in the car. Best purchase of 2023 for me! Thank you!
Pup Approved
We are in and out of the car a lot, so this gets a good work out. I like the construction and thought that went into it. I'd love to see pockets on both sides to help carry pup toys. The zippers in this one are tough, as they should be and it fits perfectly. I like the solid floor and how the front screen unzips for us to access cargo behind our seats on long trips. Love the idea of the lifetime Warranty. Hope I never have to use it. Great product and really appreciate the quality I see.
Great seat protector. Is everything as advertised!